Ward 1 Update: Schools, Columbia Heights Civic Plaza, and ATVs
Although it's technically recess here at the DC Council, the work of a Ward Councilmember never stops. For me it's been an opportunity to spend even more time out in the community with community leaders, government workers, residents and business owners, ensuring the important work of Ward 1 is getting done.
COUNCIL UPDATE
School Reopening
We all recognize that in person instruction is important, but health and safety should come first, which is why Councilmembers have been pressing, for months, for DCPS to offer more virtual options, more testing and more outdoor options. In August, I joined my colleagues on a letter to Mayor Bowser requesting a vaccine mandate for all public school employees (DCPS, public charter schools), child care facility employees, and any employee who has in person contact with minors. We received a response to the letter this morning, stating that all adults who are regularly in schools and child care facilities must be vaccinated by November 1.

Leading up to the first day of school, I visited several of our Ward 1 schools. A number of schools were still having issues with their HVAC systems, water intrusion, and missing supplies. I've escalated the work orders several times, and I continue to diligently follow up on each item. I'll continue working closely with school administrators. The Council is also convening two roundtables this month on the matter of reopening and the condition of school facilities:

Tune in:

Redistricting
Now that the 2020 Census data has been released, the Council is starting the District's decennial redistricting process to ensure we have balanced representation in the legislature. At the beginning of Council Period 24, Chairman Mendelson appointed a subcommittee of 3 At-Large Councilmembers to lead this work. At-Large Councilmembers Elissa Silverman, Anita Bonds, and Christina Henderson sit on the subcommittee. The subcommittee will make recommendations to the full Council on redrawing the ward boundaries. There will also be ward-specific task forces that will make recommendations on redrawing the Advisory Neighborhood Commission boundaries. If you are interested in serving on the Ward 1 task force, let us know!

You can also find more information about this process and a tentative timeline on Councilmember Elissa Silverman's website. The first hearing will be on Wednesday, September 29 at 10AM. Sign up to testify here and watch live next week:
COMMUNITY UPDATES
Columbia Heights Civic Plaza
I've heard from constituents who are concerned about the current state and utilization of the Columbia Heights Civic Plaza. During my time as Councilmember, I've secured funding for repairs and for more community programming at the plaza. Most recently, I secured $50,000 for behavioral health services, which our community partner, District Bridges, will implement. Last week, I asked representatives from our government agencies and community partners to meet me and my team at the plaza. Attendees included the Department of Transportation, Department of Parks and Recreation, Department of General Services, Department of Behavioral Services, Metropolitan Police Department, Mayor's Office of Community Relations and Services, ANC1A06 Commissioner Brandolon Barnett, District Bridges, Miriam's Kitchen, FRESHFARM farmer's market, and business owners. The purpose of the meeting was to clearly communicate the role that each agency and community partner plays in the use and maintenance of the plaza, identify the issues and who is responsible for responding, and establish a plan of action. My team is now working on compiling the information to share with residents. We all want to see the vision of a vibrant and welcoming plaza come to fruition, so I've also requested that this group meet on a monthly basis to continue working collaboratively to address all of the current issues.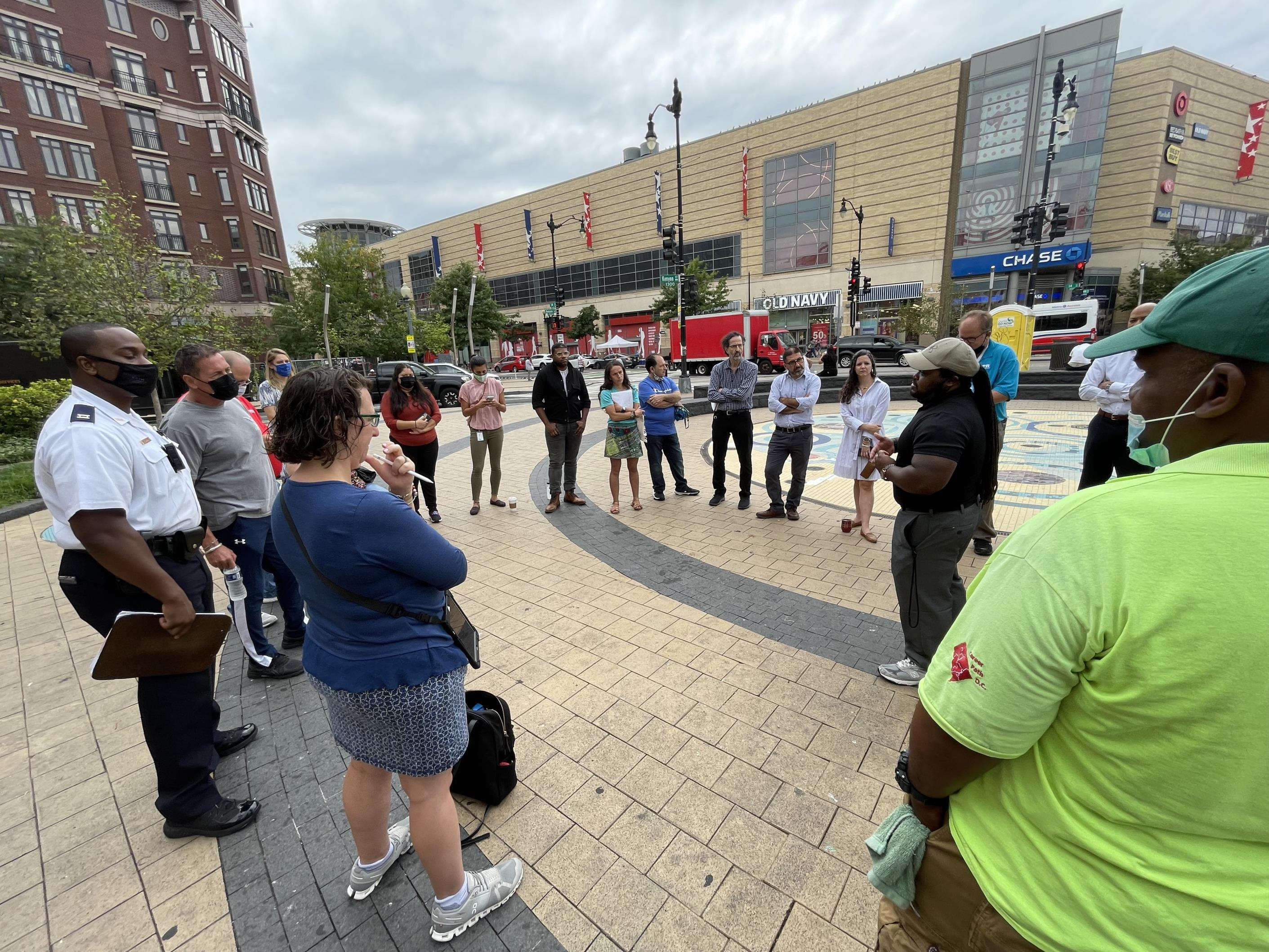 SunTrust Plaza
My office received notice that a fence will be erected at SunTrust Plaza on September 22, 2021 to prepare for the sale of the property at 1800 Columbia Road NW. The sale of this private property has been underway for years. While it is uncommon for an elected official to be engaged during the sale of private property, as the Ward 1 Councilmember and Chair of the Committee on Human Services, my immediate concern was that the fence would result in the displacement of several of our unhoused neighbors. Displacement can prolong homelessness by inflicting the trauma of being separated from community, increasing the risk of losing important documents, and fracturing the trust between unhoused neighbors and the government and community partners who want to assist.

I worked to hold off on fencing the area for more than 6 months in order to work with our community partner, Miriam's Kitchen, and ANC1C03 Commissioner Peter Wood to connect the neighbors to direct housing resources and assistance. The time that we received allowed outreach workers to build trust with the neighbors, work through the process of obtaining housing vouchers, and continue engaging with our neighbors to ensure they are prepared for their upcoming transition.
However, it's important to acknowledge that even when a resident qualifies for or receives a housing voucher, it does not mean that they will be housed immediately. The process can take months before a person has a place to go home to. Encampments are caused by homelessness and the only solution is housing, which is why I authored a budget amendment that made historic investments in housing to end homelessness for thousands of residents. The investments will not solve or house residents overnight. There is still work to do as a community. We will not end encampments by moving unhoused neighbors around or pretending they do not exist. Ending homelessness and encampments will require compassion from our communities and continued, targeted investments in housing and people.

ATVs
I've also heard from constituents who are frustrated with the illegal ATVs and dirt bikes on our roads. While we've seen ATVs and dirt bikes in past years, as the city has re-opened, they have returned in greater volume, and with greater disregard for our laws. MPD is working hard to address the issue. The question that I hear most often is, "Why can't police chase the drivers?" In order to protect the safety of the general public, police officers refrain from pursuing vehicles that commit misdemeanor traffic violations. We have seen, in the past, instances where a pursuit caused loss of life, which is the very thing we want to avoid. What MPD DOES do, is gather actionable information in the form of observation, pictures and video footage that allows them to pursue warrants and make arrests. I will continue to be in regular communication with Commander Han Kim (3D) on this matter, but I'm also talking with residents and ANCs about other changes we can make to the streetscape and usage of the U Street Corridor that would make it less attractive and available to reckless behavior on ATVs and other vehicles.

Update from DPW on Recycling Cart Education Program:
In March, DPW launched an eight-week recycling cart education program to help to eliminate contaminants from the recycling waste stream. During the Spring program, the sanitation team and recycling experts reviewed the recycling carts of 16,000 single-family households across eight routes and gave residents real-time feedback on the quality of their recycling by leaving a yellow "Oops" tag on the cart and checking off the specific contamination found.
On September 17, DPW started a second round of cart inspections that will run for four weeks. Some residential households whose carts have unacceptable items may receive a red "Rejected" tag. Here's what these tags mean:
No Collection. Carts with "Rejected" tags will not receive collection service until the next recycling day.
Instructions on what to remove. The tags will show residents which unacceptable recycling items need removal for collection to resume.
Impact of continued contamination. If contaminants remain on subsequent recycling days, carts will be flagged again, and collection delayed.
Collection crews will not be collecting recycling from carts that have been tagged with a red "Rejected" tag. Residents will be instructed to remove the contaminated items and the red "Rejected" tag and bring their cart off the curb until the next collection day. DPW crews will collect their recycling the following week. For more information on the removal of plastic bags and film from recycling, visit zerowaste.dc.gov/plasticbagremoval.

Ticket Amnesty Program Ending Soon
The final day of the ticket amnesty program is September 30. The program gives District and non-District drivers the opportunity to pay outstanding tickets with penalties waived. After September 30, the penalties will be added back on all tickets. More information can be found at ticketamnesty.dc.gov.

Splash Park Operations Extended Through Sunday, September 26, 11AM-5PM
14th & Girard Street - 14th & Girard Street, NW
14th & Park Road - 14th Street & Park Road, NW
Columbia Heights Community Center - 1480 Girard Street, NW
Harrison Recreation Center - 286 V Street, NW
The Park at LeDroit - 319 Oakdale Place, NW
Westminster Playground - 911 Westminster Street, NW
COMMUNITY EVENTS
Baby & Toddler Story Time with DC Public Libraries: Wednesdays, September 15 - October 13, 10AM
Bring a blanket and a socially distanced spot on the lawn at The Park at LeDriot, 286 V St NW, for story time. Ages 0-2, no registration necessary.

STAY DC Clinic with OAG: Monday, September 20, 5PM - 8PM
Stop by Columbia Heights Education Campus (3101 16th St NW) to get in-person help applying for rental assistance.
LeDroit Park Civic Association Block Party: Saturday, September 25, 1PM - 5PM
Join LPCA for food, face paint, and fun on Elm and 3rd Street.

First Annual NEXTfest: Saturday, September 25, 12PM - Dark
Presented in partnership with LongLiveGogo/Moechella, The MusicianShip and Washington Parks & People, the event will join together fans from the jazz and go-go music communities for a free day of music, educational activities and humanities programming at Malcolm X Park/Meridian Hill. Cultural programming will take place all afternoon, across the street from Malcolm X Park, at the Josephine Butler Parks Center. This includes a video game truck provided by Moechella, and a series of artist Q&As and family-friendly events.

DC Art All Night: Saturday, September 25, 7PM - 3AM
The festival will take place in sixteen (16) neighborhoods with different activations on each night, bringing visual and performing arts, including painting, photography, sculpture, crafts, fashion, music, dance, theater, film, and poetry, to indoor and outdoor public and private spaces, including local businesses and restaurants.

Free E-waste Recycling: Saturday, September 25, 10AM - 2PM
Bring your unwanted electronics (televisions, computers, printers etc.) to 3160 16th St NW for free recycling! View https://doee.dc.gov/ecycle to see if your electronic device will be accepted.

Open Streets on Georgia Avenue: Saturday, October 2, 10AM - 3PM
The District will close three miles of Georgia Avenue NW, between Barry Place NW and Missouri Avenue NW, to cars. The corridor will be open to residents and visitors to walk, bike, run, and scooter through. Come out to support our local businesses and participate in activities! Open Streets is free event. Rain or shine!