Ward 1 Update: COVID Testing, Pedestrian Safety & ANC Redistricting
Hi neighbors,

The year 2022 has already had us on our toes, with record snowfall and a successful Test to Return program implemented for our public school students. Before diving in to my first update of the year, I want to share a quick look back at the progress we made in 2021 in Ward 1. You may have received my mailer a couple of weeks ago, but if not, you can view it here.

We couldn't do this work without the help of community members who engage with us, provide feedback, and step up when needed. Our team is excited to set new goals for progress and ready to continue serving Ward 1.

January Brianne On Your Block
If you'd like to talk to me or my team in person, I'll be hosting this month's Brianne On Your Block on January 24 at Red Rocks (1036 Park Rd NW). We'll be outdoors with heaters.
COVID-19 UPDATE
Over the last several weeks, we've seen a surge in positive cases. The Omicron variant is very contagious. The best way to fully protect yourself is to be fully vaccinated and boosted.
On January 15, per Mayor's Order 2021-148, the District will adopt a city wide vaccination entry requirement that requires individuals to be vaccinated against COVID-19 in order to enter indoor facilities within the city.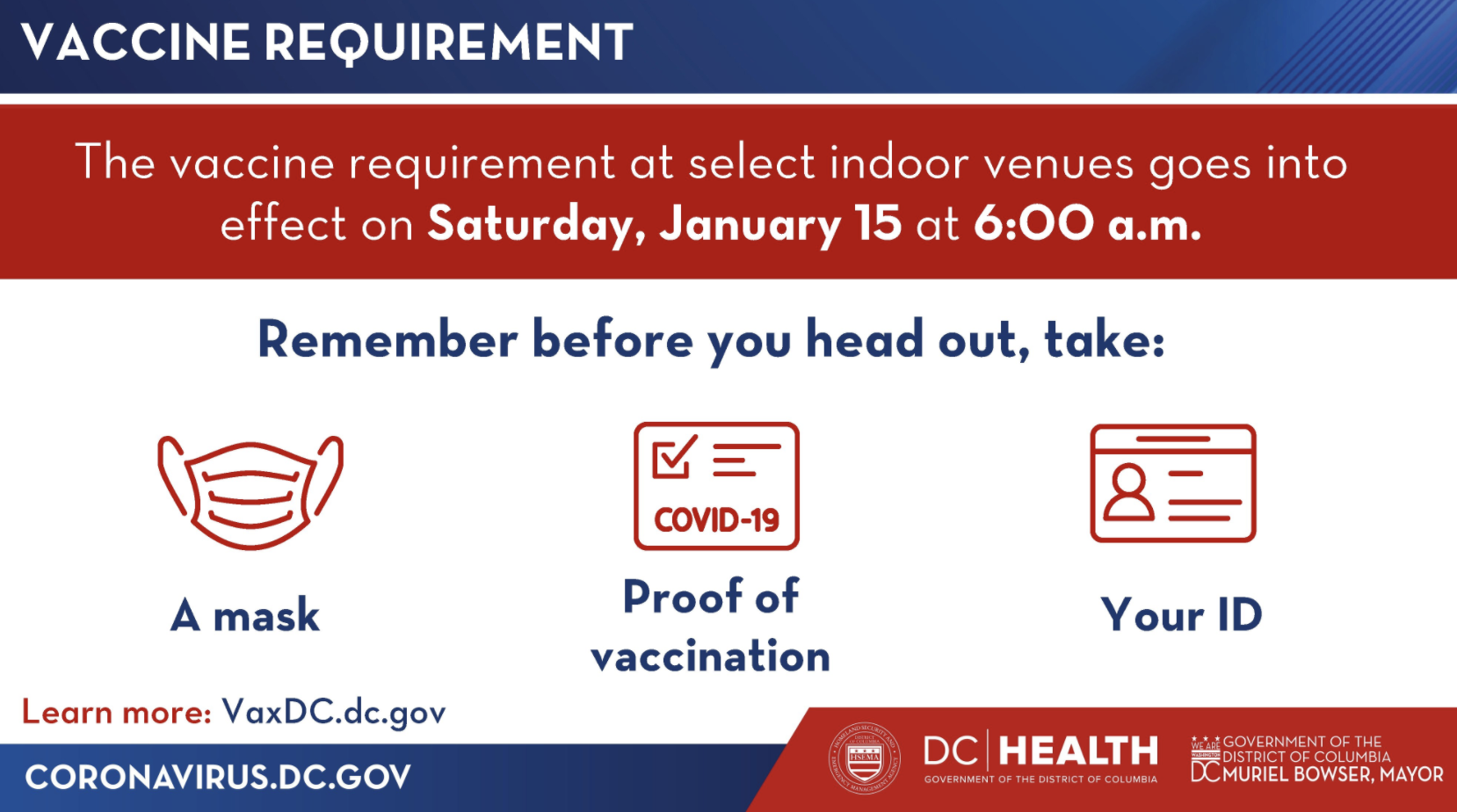 Each day, DC Health publishes a list of walk-up vaccination sites. You can visit coronavirus.dc.gov or social media platforms to amplify the news and encourage neighbors to make this a priority. Here are today's sites: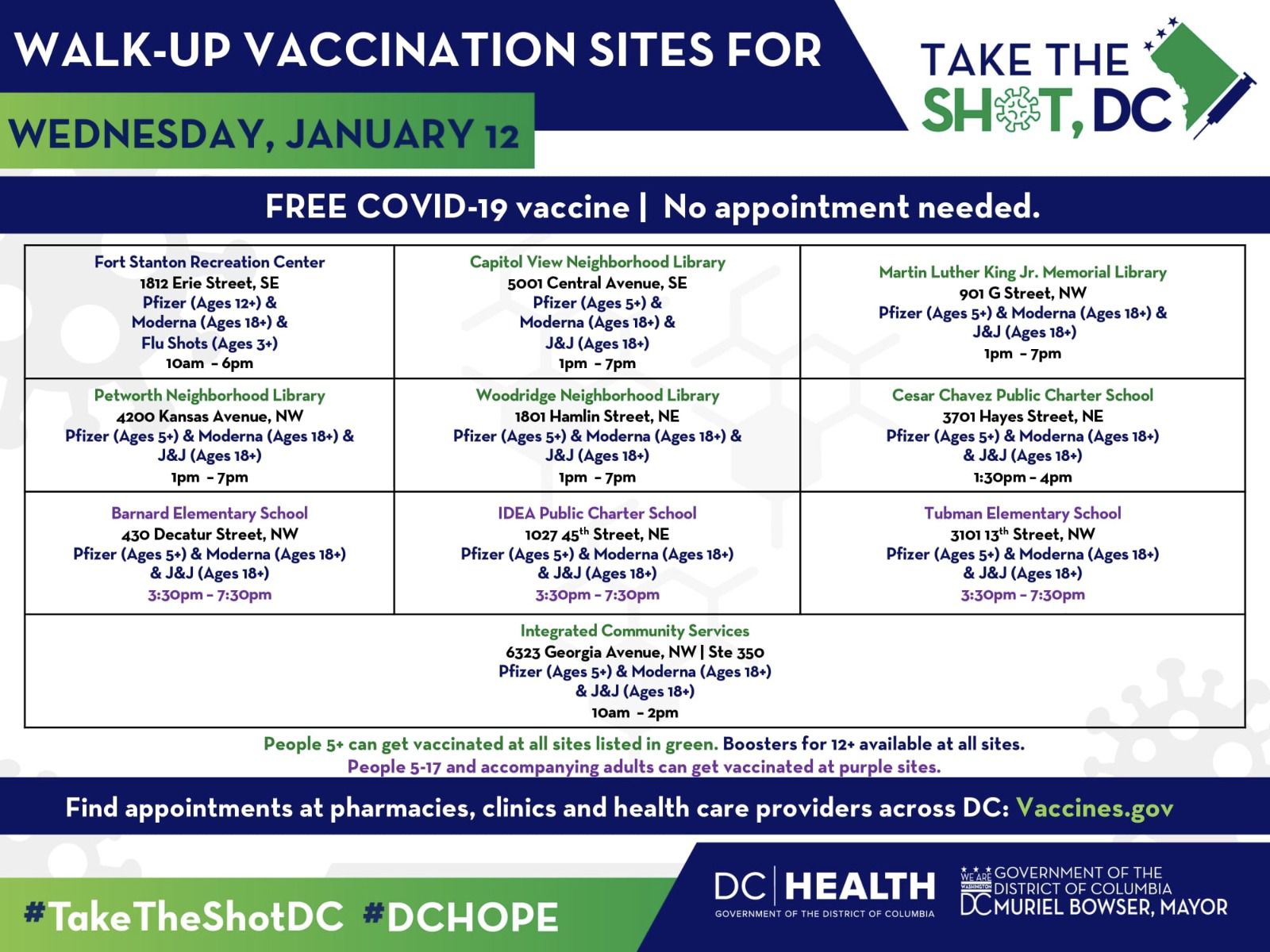 In December, I joined State Board of Education Representative Emily Gasoi and ANC 1B Commissioner Amanda Farnan to host a vaccine and booster pop up in Columbia Heights. My office will continue to support efforts and look for ways to make the vaccine and booster even more accessible and convenient for neighbors.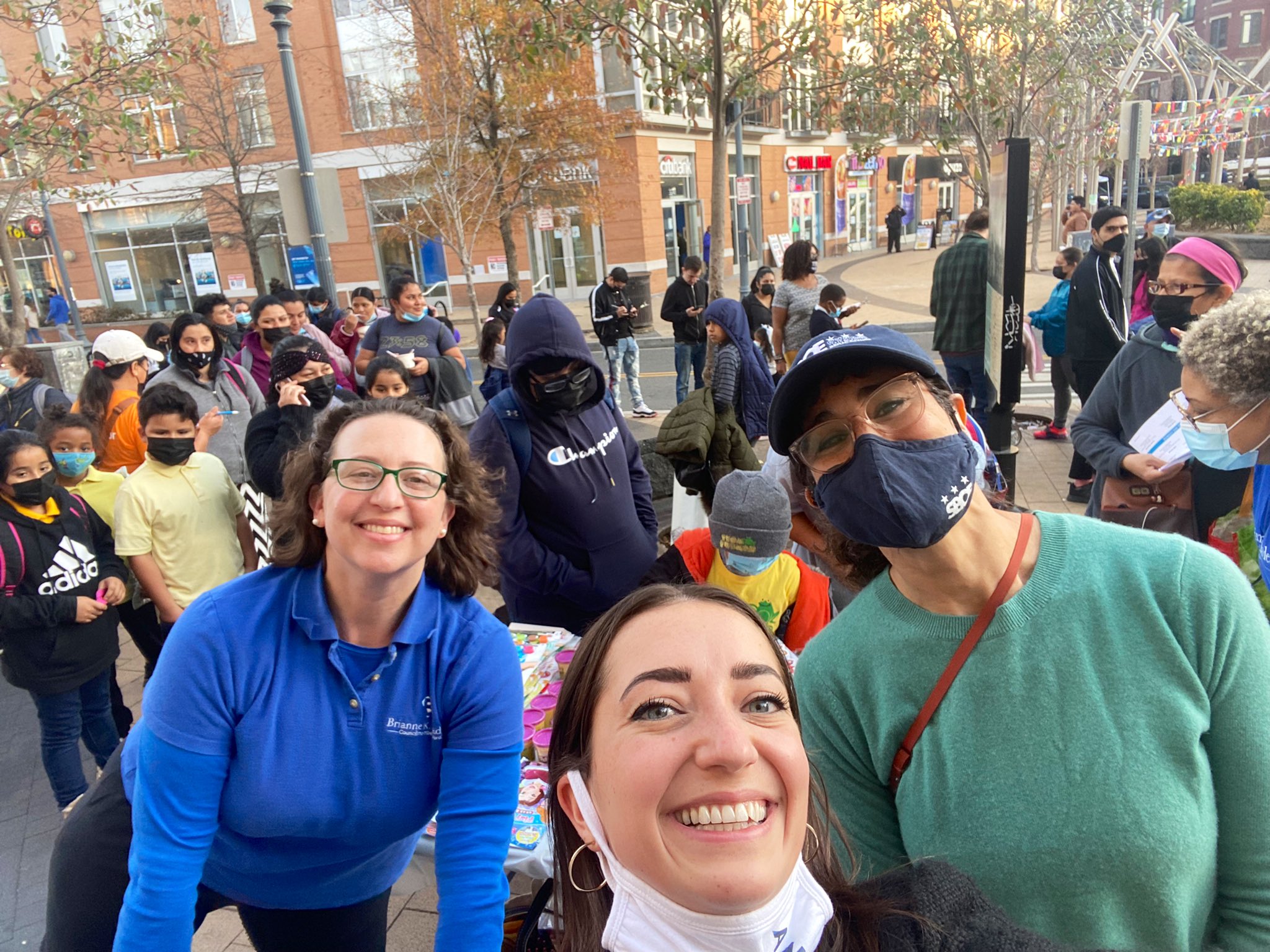 Testing is also a really important component to preventing community spread. I joined DC Health and community members to assemble test kits right before the holidays. DC Health is publishing the testing sites on a daily basis. There are sites with free PCR tests and sites with free rapid antigen tests. If you need a specific type of test, double check the coronavirus.dc.gov site to make sure you're headed to the right location. The website also shows test inventory so that you don't go to a site that has run out of its daily stock.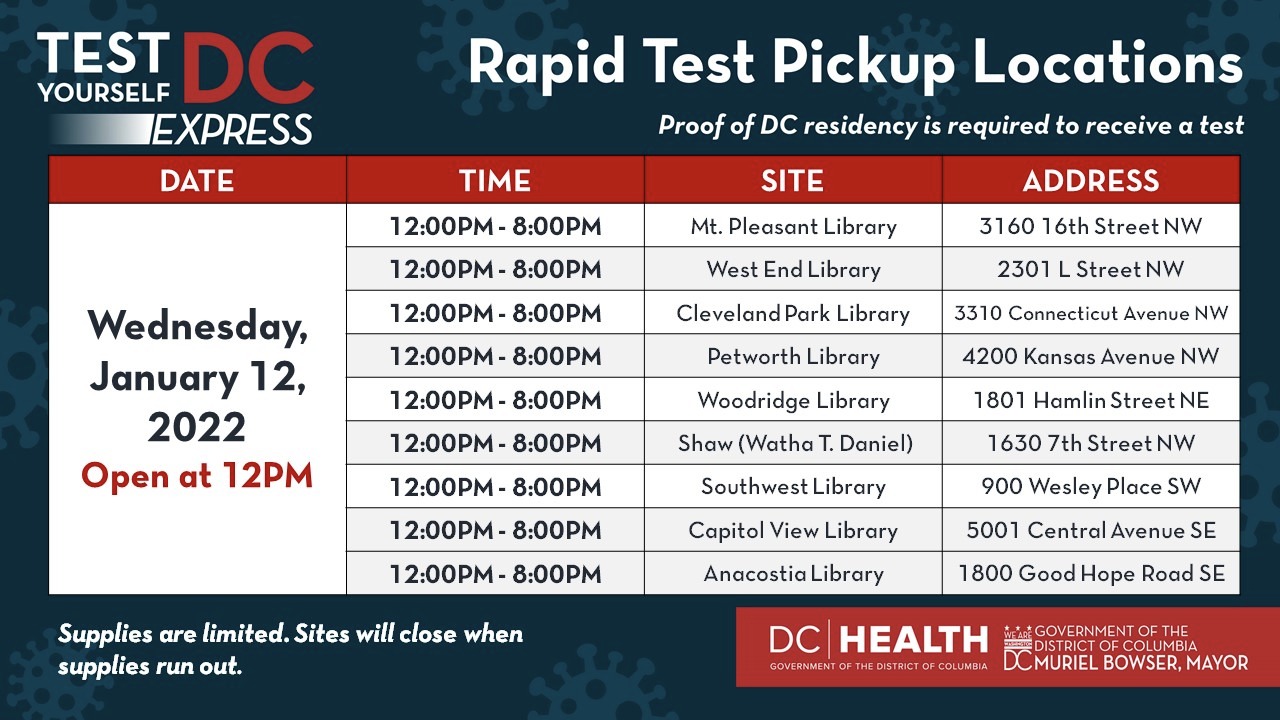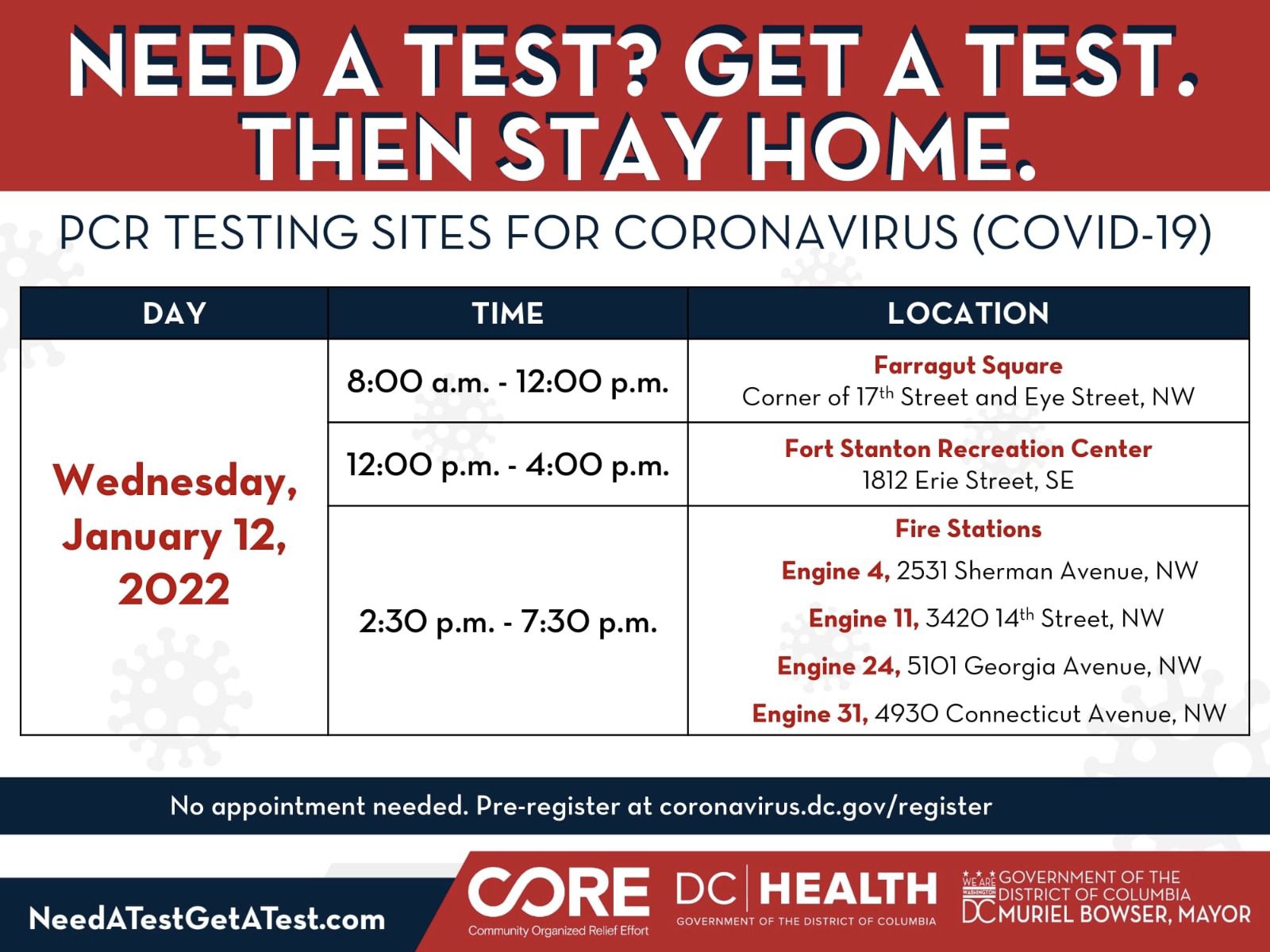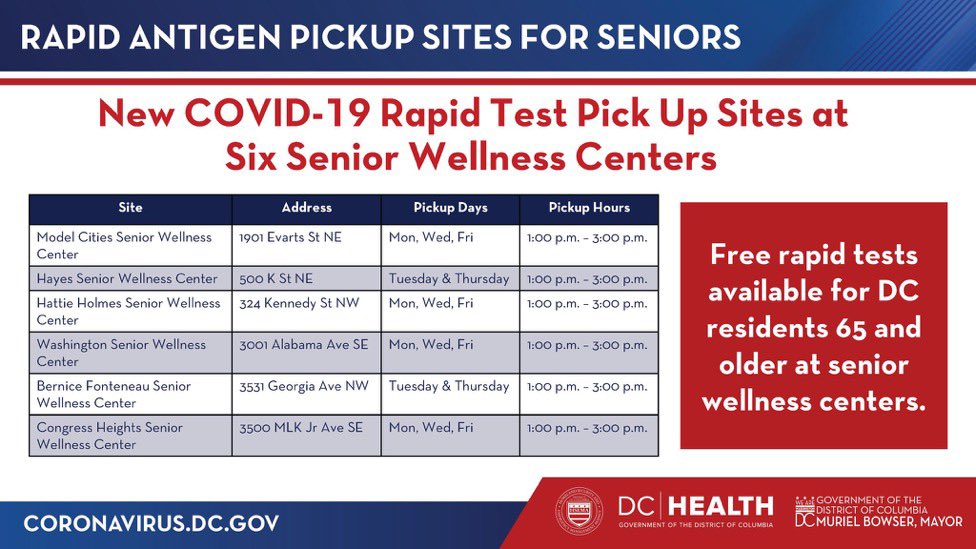 Earlier this week, the District also expanded testing sites to six senior wellness centers to make tests accessible to our senior residents. In Ward 1, the Bernice Fonteneau Senior Wellness Center will have tests on Tuesdays and Thursdays from 1PM – 3PM. I stopped by the center yesterday with my team to help distribute some tests.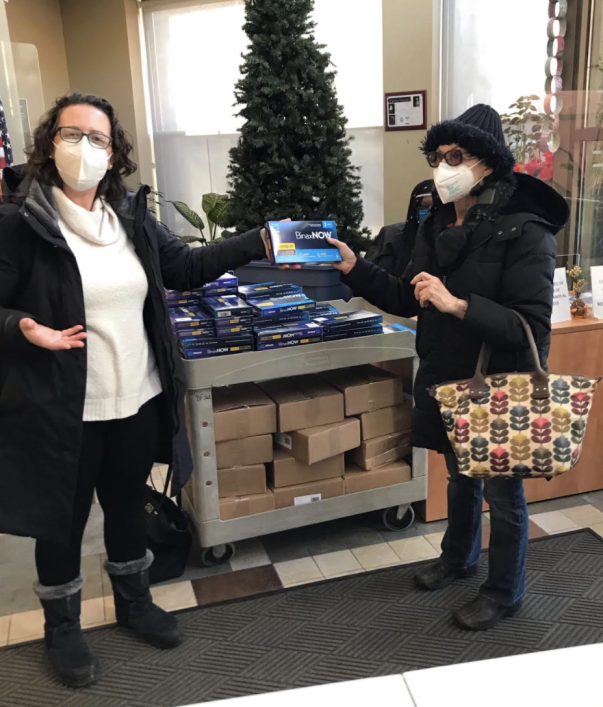 Schools
Over the break, I heard from Ward 1 parents who were anxious about the return to in person learning in the new year. As a parent myself, I understand firsthand the stress of wanting schools to remain fully open, while also worrying for the health of unvaccinated children. I also hear the pleas from teachers and school administrators who are working so diligently to operate our schools under incredibly difficult circumstances.
I sent a letter to Mayor Bowser asking for the implementation of common-sense investments that I and other Councilmembers have pleaded for over the past year, including better masks, more testing and additional staff and volunteer resources. You can see the full letter here.
Throughout the pandemic, letters like this, conversations in our weekly briefings and rigorous oversight in public hearings have led to critical improvements in our schools. I will keep pressing for the common sense measures we need to keep students and teachers healthy without overburdening school administrators.

Before the return in early January, the executive did announce a few new measures:
Schools will continue with symptomatic testing and random asymptomatic testing 20% of the school population each week (which is now the law, after Council took action last year)
The District will distribute rapid antigen tests before returning from any break that is at least a full school week
Schools will distribute at-home rapid antigen tests for pre-k and kindergarten students and staff in DCPS and charter schools to administer weekly
I will continue to stay in touch with Ward 1 families and teachers, and I'll continue to press for a more layered approach to keeping people safe.

STAY DC
The Council received great news last week that the District will receive $17.7 million in aid from the federal government for the STAY DC program, which has helped residents who experienced hardship during the pandemic cover rent and utility costs. The additional aid comes from a reallocation of funds that went unused by other states. We will share more information about the distribution of these funds as it becomes available.
COUNCIL UPDATES
Pedestrian Safety
Right before the Council recessed for winter break, I introduced the Walk Without Worry Amendment Act to standardize the design and installation of raised crosswalks and intersections in the District of Columbia.

Raised crosswalks and intersections will, by design, slow drivers down. We know that these types of traffic calming measures make our streets safer, and we see them in some of the District's more resourced neighborhoods where people have the time and ability to advocate for them. By creating a new standard, we will be taking a more proactive and equitable approach to pedestrian safety.

The legislation amends the Priority Sidewalk Assurance Act of 2010 to require the District Department of Transportation approve standardized designs for continuous sidewalks, raised crosswalks, and raised intersections in DDOT's Design and Engineering Manual and the Standard Specifications for Highways and Structures. You can read more here.

An additional important pedestrian safety update is that our request for crosswalk daylighting and automated enforcement was included in DDOT's follow up memo for the crash that tragically killed Nina Larson at Biltmore and Columbia Rd NW. Now we are just waiting on a warm day to install.

Paper Visitor Parking Passes
The Council also passed an emergency bill to extend the use of the 2020 paper visitor parking passes through April 2022. DDOT has implemented ParkDC, a new online visitor parking program, but we've heard concerns from residents about the practicality of the process, as well as concerns about equity in the program's implementation. This conversation will be pick back up during DDOT's upcoming oversight hearing. Bottom line, we need the system to work better for all users, not just those with access to a printer at home.

Small Business Assistance
The Council passed a bill to move forward with an additional $40 million in small business COVID relief grants. The grants are targeted to businesses in the restaurant, retail, hospitality, or entertainment sectors with under $5 million in revenue in each of the last three years can apply.

Redistricting Task Force
Last month, Council approved the final new Ward boundaries in response to the 2020 Census. Between now and this summer, we begin the work of drawing the new boundaries for Advisory Neighborhood Commissions and the Single Member Districts within them. I'm pleased to announce the members of the Ward 1 Redistricting Task Force, with a few open positions awaiting confirmation:
Appointees:
James Turner
Lydia Curtis
Sheika Reid
Camille Glover
Santiago Lakatos
Marcus Hedrick
Ari Gerstman
Arturo Griffiths
Jon Stewart
Paul Jones
Amir Irani
Peter Wood
Amanda Chulick
Howard Student Appointee+
Appointments from At-Large Councilmembers+

+ Awaiting nomination
Thank you to everyone who reached out expressing interest. All Task Force meetings will be subject to DC's Open Meetings Act, and I want to make sure that not only are they publicized, streamed, and recorded, but that we create ample opportunities for non-task-force members to participate actively, whether that's by providing comment or making your own maps.

The task force membership is limited by the task force's own short timeline, to ensure that the body is a size that can reasonably deliberate on and approve a report to Council by its April 1, 2022 deadline. The first meeting of the Ward 1 task force will be this Thursday, January 13th at 7:30 pm. The first meeting will establish a code of conduct and conflict of interest policy for sitting ANC commissioner and for other members with leadership roles in our community.

For the most up-to-date information on Ward 1's redistricting process, bookmark https://www.brianneknadeau.com/redistricting. I'll be updating that page with meeting information, Ward 1 data, and guides to creating your own maps.

Ward 1 has two of the largest ANCs by number of commissioners, and ANC boundaries that are sometimes inconsistent with how residents experience their neighborhoods. The boundaries of ANCs 1A, B, C, and D have hardly changed in the last several decades. I am looking forward to hearing from our ANCs and communities about how best to divide up the challenging work of being a commissioner so that Ward 1 has strong advocates working for residents from east to west and north to south.

Ward 1's 2020 Census numbers show that we grew at almost exactly the citywide average, which meant that Ward 1's boundaries itself did not have to change. This is something to be proud of, as it shows that Ward 1's neighborhoods continue to contribute their fair share of the significant housing need across the District. Ward 1 in 2021 remains one of the most diverse Wards in DC by both race and income, but this is not something I take for granted. We must choose every day to protect and foster that diversity through aggressive investments in housing and community services.

Oversight Hearings
Performance oversight season, my favorite times of year, is here! I've compared this before to our little own March Madness for government nerds. We hear from members of the public and government witnesses on how all of our District agencies have been performing over the last year. Your feedback is critical and helps me and my team push for improvements in government services. Check out the hearing schedule here.
Committee on Human Services Hearings
Click here to sign up to testify for any of the following Performance Oversight Hearings:
February 10, 2022, 9AM: Department on Disability Services (DDS) and Office of Disability Rights (ODR)
February 17, 2022, 9AM: Child and Family Services Agency (CFSA)
February 22, 2022, 12PM: Board of Ethics and Government Accountability
February 24, 2022, 9AM: Department of Human Services; Interagency Council on Homelessness; District of Columbia Housing Authority on matters concerning housing voucher and Department of Human Services Programs administered by the District of Columbia Housing Authority
COMMUNITY UPDATES
Department of Public Works
We've seen significant delays with trash and recycling collection over the past several weeks. I know this is a hardship for our community, and I'm committed to ensuring that this essential city service gets back on track. If you are still experiencing a delay, place a service request by calling 311 and share that confirmation number with me to follow up on your behalf.

Holiday trees and greenery will be picked up through February 28. Place your trees curbside or at your normal point of collection without any lights or decorations.

WMATA Reduced Service
Due to the surge in positive COVID-19 cases, WMATA is experiencing staffing shortages, which has led Metro's Pandemic Taskforce to scale back services. WMATA shared the following update on services January 10:
Metrorail will continue to operate on all lines as scheduled, with customers experiencing more frequent service at stations served by multiple lines.
Metrobus will reduce service on weekdays to a Saturday schedule with additional trips on some routes, which is roughly 75 percent of regular Metrobus service and protects key routes that serve hospitals, grocery stores, and other essential destinations.
Bus operators will be permitted to bypass customers not wearing masks for their health and safety.
Metrobus customers are advised to consider alternative sources of transportation like Metrorail to travel throughout the region.
MetroAccess will reduce shared rides and increase accessibility rides. For more information about MetroAccess, please visit wmata.com/metroaccess.
Constituent Services
As I'm sure most of you know, our office works incredibly hard to ensure we are helping Ward 1 residents. The pandemic has also increased the demand for assistance, and we're handling upward of 100 cases per month. Most of these cases are for assistance when government services are not working like they should, and you need us to nudge an agency. If this is the reason you find yourself reaching out for assistance, it's always incredibly helpful if you take 2 minutes to fill out a 311 request and include the service number when you contact our office. You can also call or download the 311 app to submit a request. Thanks for your partnership on improving our city services for all.
COMMUNITY NEWS
Street Vendors with Vendedores Unidos are launching a coop in February, starting with a Central/South American & Caribbean meal subscription service! I'm proud to support our vendors in Columbia Heights and across DC. Learn more here.
Events DC is accepting grant applications from non-profit organizations that support youth sports, cultural or performing arts. Learn more here.